We hope you find the following information useful. If you have any questions or comments, please email rachel.carr@york.gov.uk
Welcome to the second half of the Spring term – what an exciting start we have had, moving into our new school. We hope you have had the opportunity to have a good look around. Please come and speak to us if you have any questions or concerns.
Routines
Our regular weekly activities will continue as follows:
Wednesday – PE
Thursday – Forest Schools
Friday – Library
The children have come well equipped so far, so keep up the good work.
Please remember, that although we change reading books on a Monday and a Thursday, we listen to groups and individuals read throughout the week, so reading books and planners should be in school every day.
The children are making excellent progress with their reading – thank you for your support at home with this. It is clear the amount of time you are spending reading with the children at home. Please remember to write in the planner the title of the book and 'ready to change' or 'keep' so we know whether your child needs a new book. Unfortunately, if there is no comment, we assume they haven't read.
We will continue to visit the school library every Friday. Please make sure your child's book is brought to school every Friday so that it can be exchanged for a new book.
As you already know, the days for forest schools and PE have changed. From now on PE will be on Wednesday (PE kits should be in school all the time) and forest schools will be on a Thursday. Please continue to dress your child appropriately for a morning in the forest. They will still need wellies and waterproofs and at times may need a hat and gloves, but as the weather improves, they may need fewer layers or a thinner waterproof.
Thank you for your patience at home time, waiting for the children in such a small space. We look forward to the demolition of the old school and the work on the outdoor area so that there will be more space to wait. In the meantime, please congregate as close to the second door (the classroom door rather than the cloakroom door) as possible so that staff can see you to call the children and so children can see you when they come out.
Independence
The children have coped well with the changes in some of the routines. The main change is the need for the children to come in independently in the morning, due to less space in the cloakroom area than previously. Please continue to encourage your child to come in, hang coats up, put book bags in the correct box (there are 4 different ones – they know which one is theirs) and put their water bottles away. We are then asking the children to sit on the carpet for a short activity before we start the day. We would also like to say, as the children are coming in more independently, if you ever want to pop in to see their learning journey or something they have told you about, please do so.
Learning
This half term we will continue to learn about numbers to 20 – counting, reading, writing and ordering them. We will use Numicon and other resources to add and subtract small numbers. We will encourage the children to use these skills in their play. We will also learn about shapes and about measuring – using language such as full, empty, heavy, light, longer and shorter.
In phonics, we will learn the remaining phonemes (ar, er, ur, oi, ou, air, ure and ear) so that the children know one way of representing each spoken sound in the English language. We will continue to use our phonics to read and write simple words and sentences. We will also continue to learn to read and write tricky words (I, the, to, he, we, me, she, my, you, was, no, go, are, her, they). We will also be focussing more on letter formation and teaching the children how to form each letter clearly and correctly. We follow a programme which groups the letters into ladder letters (l, i,t,y,u,j), curly caterpillar letters (c,o,a,d,g,q,e,s,f), one armed robot letters (r,p,h,k,b,n,m) and zig-zag monster letters (w,z,x,v).
Our 'Talk4writing' book for this half term is Funnybones by Janet and Allen Ahlberg. We will learn the story using a story plan, then change the story by altering key parts e.g. the setting or the characters. We will also explore our bodies and how to keep healthy as we learn the story.
We are very lucky to have a dedicated kitchen area in the new school, so we are going to make the most of it (especially as it is right opposite Early Years!) Already, the children have made pancakes and number cookies and we are planning to make sandwiches, smoothies and fruit salad/kebabs among other things.
Observations
We have now completed the first set of focussed observations and have already started the second cycle. They will work in the same way as before. You will receive a letter telling you that your child is one of the focussed children along with a sheet for you to inform us of any interests or information from home. Do include photographs and/or children's work with this as it all adds to the picture of your child in their learning journey. You will also have the opportunity of coming for a short meeting with one of the teachers the week after the observations to discuss your child's progress. If you wish to talk about your child at any other time, please make an appointment with a member of staff. The learning journeys are always in the classroom and you are welcome to come and see them too.
Learning in the Early Years Classroom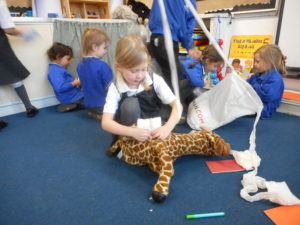 We believe that young children learn best through play and through following their own interests. This is reflected in our Early Years learning Environment where teaching and learning is done through play. The Early Years Team play and interact with the children for the majority of the time. We help children practise and consolidate what they already know and help them learn new skills and knowledge, within the context of the activities they choose to do. We encourage reading, writing and maths in all these areas.
In the Early Years curriculum there are 7 areas of learning: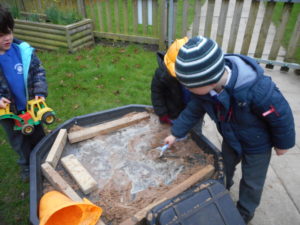 3 Prime areas: Personal, Social and Emotional Development, Physical Development and Communication and Language.
4 Specific areas: Literacy, Mathematics, Knowledge of the World and Expressive Arts and Design.
Underpinning all these are the Characteristics of Effective Learning: Playing and Exploring, Active Learning and Creating and Thinking Critically.
Learning Journeys
In Early Years we observe and interact with the children in their chosen activities. We record some of these activities in their 'Learning Journeys'. These will be kept in the little room and are available for you to share with your child. When you drop your child off is an ideal time to have a look at what they have been doing but if that is not convenient, you are welcome to come in at the end of the day too. There are also sheets available for you to inform us of anything your child does at home that you think would be useful for us to know. Please take a sheet away, fill it in and put it in the box provided – clearly named – so we can add it to your child's learning journey.
Finally . . .
May we remind you to regularly check our Facebook page to see what is happening in school. You will also see photographs of some of the activities we do in Early Years.
Once again, many thanks for your support.
If you have any questions or comments about your child's progress, please speak to one of the team, write a note in the planner or email rachel.carr@york.gov.uk
Remember you can also keep up to date with what is happening in school on Facebook and Twitter.
Useful Information
Early Years Observations October 2016
Early Years New Starters September 2016 – Presentation
Phonics & Reading in Foundation Stage
Early Years Curriculum & Assessment