We hope you find the following information useful. If you have any questions or comments, please email rachel.carr@york.gov.uk
Welcome to the first half of the Summer Term – hopefully we will get some summery weather soon! As we near the end of the school year, there will be a few changes in routine as we encourage the children to be more independent.
Routines
PE will continue to be on a Wednesday morning. It will be outside for this term (weather permitting). Your child will need long jogging trousers, a jacket or sweatshirt and a pair of trainers. Please add these to your child's PE kit, making sure they are clearly named.
Forest schools will be on Thursdays as before. Your child should continue to come dressed appropriately for the weather. As it becomes warmer, they may need a thinner waterproof trousers and coat and may need a sun hat (we can hope!). On very dry days, waterproofs may be replaced with long trousers and long sleeves so that arms and legs are still protected from scratches. These can be taken off after forest schools.
We will visit the library each Friday. Please make sure your child brings their library book on a Friday so they can choose a new one.
Thank you for reading regularly with your child. They are getting very confident with their reading, talking about the stories, showing great understanding and using their phonic skills. Your commitment to reading at home regularly is evident in how well they are doing. When you read with your child, please make a note in their planner – write the title of the book, a brief comment about understanding, enjoyment and confidence and whether they are ready to change. Please make sure reading books and planners are brought to school every day.
Independence
The children have coped well with the changes in some of the routines. The main change is the need for the children to come in independently in the morning, due to less space in the cloakroom area than previously. Please continue to encourage your child to come in, hang coats up, put book bags in the correct box (there are 4 different ones – they know which one is theirs) and put their water bottles away. We are then asking the children to sit on the carpet for a short activity before we start the day. We would also like to say, as the children are coming in more independently, if you ever want to pop in to see their learning journey or something they have told you about, please do so.
Learning
Our Talk for Writing book this half term will be 'The Very Hungry Caterpillar' by Eric Carle. As well as learning the story and adapting it, we will learn all about how a caterpillar changes into a butterfly. After half term, we will have a chance to 'grow' our own butterflies and enjoy a visit to Tropical World in Leeds.
We hope you and your children are enjoying the activities on the homework menu. We would love to hear some of the things you have been doing together – thank you to those people who write a note in the planner to let us know which activity you have done. Please remember to read the weekly note that goes out on Parent pay each week – this will give you some more information about what we are doing in school. You have also received the latest jolly phonics book with the remaining sounds we have learnt in class. This is a very useful starting point for talking about what your child has been learning and they can entertain you with the songs and the actions that go with each sound.
Observations
We will continue to have 3 focus children each week who we spend more time observing and interacting with. There will still be the opportunity to meet with staff the following week to discuss what we observed. By the end of May, all children will have had two focus weeks.
Learning in the Early Years Classroom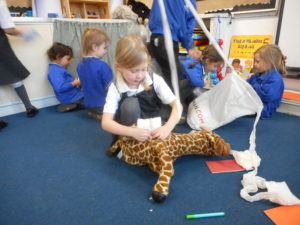 We believe that young children learn best through play and through following their own interests. This is reflected in our Early Years learning Environment where teaching and learning is done through play. The Early Years Team play and interact with the children for the majority of the time. We help children practise and consolidate what they already know and help them learn new skills and knowledge, within the context of the activities they choose to do. We encourage reading, writing and maths in all these areas.
In the Early Years curriculum there are 7 areas of learning: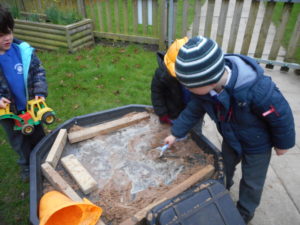 3 Prime areas: Personal, Social and Emotional Development, Physical Development and Communication and Language.
4 Specific areas: Literacy, Mathematics, Knowledge of the World and Expressive Arts and Design.
Underpinning all these are the Characteristics of Effective Learning: Playing and Exploring, Active Learning and Creating and Thinking Critically.
Learning Journeys
In Early Years we observe and interact with the children in their chosen activities. We record some of these activities in their 'Learning Journeys'. These will be kept in the little room and are available for you to share with your child. When you drop your child off is an ideal time to have a look at what they have been doing but if that is not convenient, you are welcome to come in at the end of the day too. There are also sheets available for you to inform us of anything your child does at home that you think would be useful for us to know. Please take a sheet away, fill it in and put it in the box provided – clearly named – so we can add it to your child's learning journey.
Finally . . .
We are hoping for some warmer weather. Please be ready to provide your child with a sun hat for when it is hot. We allow the children access to outside for most of the day so it is essential to be prepared. With this in mind, please keep an eye on the weather forecast and apply sun cream in the mornings before school when it gets hotter. We are able to apply sun cream in school and use Nivea children's spray. If you do not wish us to apply sun cream or your child has an allergy, please speak to a member of staff.
As always, if you have any questions or comments about your child's progress, please speak to one of the team, write a note in the planner or email rachel.carr@york.gov.uk
Remember you can also keep up to date with what is happening in school on Facebook and Twitter.
Useful Information
Early Years Observations October 2016
Early Years New Starters September 2016 – Presentation
Phonics & Reading in Foundation Stage
Early Years Curriculum & Assessment