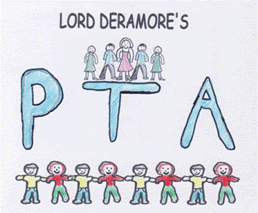 The PTA mission is to have fun, work together, raise money and support our school. If you have a child at Lord Deramore's, then you automatically become a 'friend' of the PTA – a great way of getting to know other parents and to be involved in the school community.
We will continue to support events such as the Riding Lights performances, the Christmas Fair and School Discos. We look forward to welcoming you!
If you would to get involved with the PTA, we'd love to talk to you. Please contact Jaime or Eszter at: lordderamorespta@yahoo.co.uk
You can read our Newsletters below and also follow links to find out about the different roles involved.
WE RAISE MONEY THROUGH: Themed & Sponsored Events, Christmas Fair, School Discos, Second Hand Uniform Sales, Lolly Fridays in Summer, Christmas cards, Name Labels* and much more.
(*You can help us raise money by ordering your child's name labels from www.easy2name.com – just include Lord Deramore's School under "fundraising group" when placing your order, for us to receive 20% cashback on all orders.)
THE PTA CONSISTS OF:
Friends of the PTA – Attending and supporting events
Willing volunteers – Offering practical, hands-on help at events
The Committee – Planning and arranging events and activities

AND FINALLY. . .

To help run our events we always need: o

rganisers, caterers, people with printing/IT/craft/design/advertising skills, enthusiasm, "do-ers" and anyone who can spare a little time to help!
2016 – 2017 PTA COMMITTEE MEMBERS
CO-CHAIR Karen Van Der Zee (Eva Y5, Sol Y2)
CO-CHAIR Eszter Ungar (Sara Y5, Levente Y3)
TREASURER Ruth Davison (George Y4)
COMMUNICATIONS Isabel Jagoe (Bryn Y4)
SECRETARY Victoria Jack (Poppy Y1)
EVENTS Open
BAGS 2 SCHOOL Lottie Parker (Barnaby Y5)
XMAS CARDS Sarah Barson (Mitch Y4, Lola Y2)
UNIFORM SALES Nora Alden (Lughan Y3, Uma Y1)
SCHOOL REPRESENTATIVES Sheena Powley, Mark Richards