Admissions to Lord Deramore's Primary School are dealt with by the admissions team at the City of York, as the admissions authority for our school.
If you have any queries about the admissions policy or process you can call 01904 551554 or email education@york.gov.uk. Further details are also available on their website.
Will your child start reception in September 2020?
You should apply for your child to start primary or infant school by 15th January in the school year your child turns 4. Applications for a place in Reception starting in September 2020 will open in September 2019. The deadline for applications is 15th January 2020. Late applications can be made after 15th January, though these may be looked at after other applications. National Offer Day will be in April.
Applications for entry into reception can be made by using the online form to apply for a school place.
If you can't apply online you can request a paper Primary Application Form by calling 01904 551 554.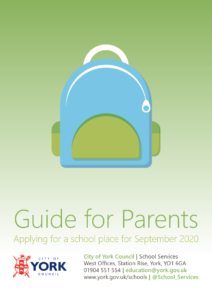 Please read the Guide for Parents when applying for a school place, as it contains key information on school admissions. We also advise you to keep checking on the City of York Council Admissions site to keep updated with key dates throughout the year.
Visits to our school by prospective parents are warmly welcomed!
Please contact the school office to book a visit on one of our small group tours which are available with the headteacher during November and December. Tours will take place most Tuesdays, Wednesdays and Thursdays at 9.30am and 1.30pm.
You can find the school's internal admission form, to complete once a place has been allocated by City of York Council, in the New Starters Information.
Key Dates for the City of York Council Admissions Process
12th September 2019 – applications open online for September 2020 entry to Reception
15th Jan 2020 – Deadline for applications
16th April 2020 -National Offer Day
20th May 2020 – Appeal forms to be returned
June-July 2020 – Admission appeals heard
September 2020 – Applications for the 2021 entry into Reception expected to open