The Google for Education suite of applications, including Google Classroom, will work on most devices and with many web browsers but for full functionality it generally works best if you use the Google Chrome web browser.
If you are using a school Chromebook, you can just log in with your usual school username and password.
If you are using a different device you can access your Google classroom in a web browser by going to https://classroom.google.com/
You will be asked for your email address to sign in. On the school Chromebooks part of this is automatically filled in for you. In a web browser you will need to type the whole thing. The sign in page looks like the picture on the left. Your email address is your usual username followed by @lordderamores.com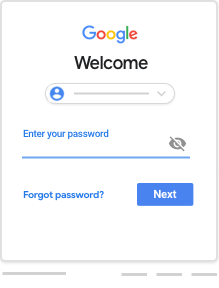 When you click 'Next' it will take you to the next screen where you type in your password. This is your usual password – the one that you would use to log on to the Chromebooks. Type in your password carefully then click 'Next'.
The first time that you log in you may have to agree to the Terms and Conditions. The 'Accept' button is at the bottom.
If you haven't already joined your virtual classroom, you should have a message inviting you to do so. Click 'Join' and then click 'Student' and you are ready to start!