What is a Forest School?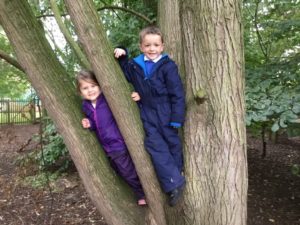 A Forest School is an approach to learning which takes place outdoors in a natural environment. Through practical hands-on activities, it gives children opportunities to follow interests, learn new skills, work as part of a group and appreciate nature.
This holistic approach encourages children's imaginations and gives them the confidence to 'have a go' through exploration and discovery.
At Lord Deramore's we are so lucky to have our own small area of natural woodland with mature trees and shrubs. It is a peaceful and magical place, made even more special with its own Hobbit Hole and tree platform.
What are the benefits?
Self confidence – evidence shows that 'long term forest school programmes had a positive impact on children's resilience, confidence and well-being.' (Sarah Blackwell – Sheffield University)
Social development – children work together and communicate to solve problems, create and share
Assess risk – be able to predict what could pose a risk and take steps to lessen that risk
Health – being active outside promotes health and fitness
Respect for nature – by learning more about the natural environment, children will be more able to care for it.
What sort of activities do the children do?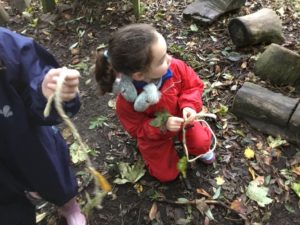 Activities are very varied and may be linked to the topic in school. Here are a few examples:
In EY and KS1, Sage and Onion set challenges to encourage problem solving and imaginative play
Scientific studies linked to the seasons, animals, plants etc
Working together to build shelters using tarpaulins and rope
Art projects such as a Roman mosaic using natural materials or sculptures in the style of Andy Goldsworthy
Cutting and whittling sticks to make wooden jewellery or a woodland animal model
Story telling
Map making
Mathematical skills such as making 3D shapes and measuring
Cooking on a BBQ or fire.
Using Tools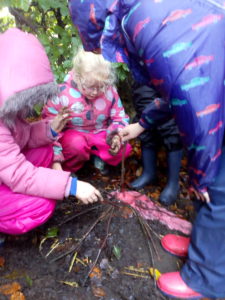 The tools are the same ones which might be used as part of the technology curriculum such as saws and drills. The children learn how to use these safely. We have a large supply of thick gloves for the child to wear on their 'bracing' hand as extra protection.
Fires, Kelly Kettles and Cooking
It is lovely to sit around a fire on a cold day, especially if there is something cooking! Fires and Kelly Kettles can only be lit in the presence of trained staff and there will always be an adult whose only job is to watch the fire and the children around it. There are safety rules around fires which are taught to the children and strictly adhered to.
When cooking, staff will always be aware of any food allergies within the class. Raw meat and nuts will never be used.
Clothing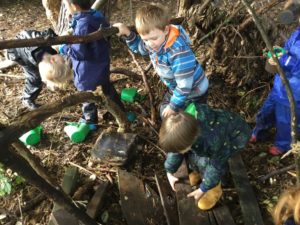 We aim to be outside in all weathers, with the exception of very high winds and thunderstorms. Extremely cold weather might result in a shorter session but we would still expect to go out. Very hot weather is not usually a problem as our bit of forest has a very leafy canopy and is in shade.
Your teacher will let you know when your child's class are planning to go out.
Please can they bring the following clothing (named please!):
waterproof boots / wellies
thick socks and spare socks
waterproof, warm coat
They may also need:
waterproof trousers / change of trousers
hat / scarf / gloves
First Aid
Even though we are very close to the school building, there is always a first aid kit in the forest. All teachers and TAs are trained in first aid and teachers will bring inhalers and any other medication which may be needed to the forest.
All teachers carry a phone in the forest.
Outdoor Learning Week
Every year our school has a whole week where every lesson takes place outdoors on our school field or in our forest or in a tent. During Outdoor Learning Week, we consolidate the learning which has taken place in the Forest School as well as explore all the areas of the curriculum in an outdoor setting. Have a look at the photos in our gallery. We love Outdoor Week!
Forest School Information and Training
If you are interested in the history and ethos of Forest Schools, you might find this link interesting:
http://www.forestschoolassociation.org/
Our Year 4 teacher Suzie McKenna is in the final stages of her Level 3 Forest School Leadership Award and Isabel Jagoe, a long time member of our PTA, is already Level 3 qualified.